Dev Chatterjee
Co-owner of the former Quanta Performance clinic and BXT program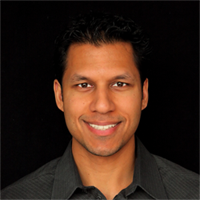 Dev graduated from McGill University's faculty of medicine with a Bachelors of Science in Physiotherapy during which he acquired a thorough training in the neurological and biomechanical principals of human movement and exercise.
Over the years, he has implemented these principles in rehabilitation and high performance fitness/athletics while continually exploring the bioenergetics of human performance.
Dev Chatterjee's work is geared towards cutting edge rehabilitative care and biomechanical assessment. In addition, his expertise in both training as well as nutrition allows him to integrate these areas together in a unique framework that perceives the body as a whole on the physical, biochemical and mental levels. His wide array of skills, allows his patients to benefit from the luxury of receiving guidance and assessment in many areas of expertise at once from the same practitioner.
Omni Athletix/Therapeutix, was founded by Dev Chatterjee out of the desire to bring his integrative vision of wellness and athletics to a new level while working with the general public as well as renowned professional athletes such as Jean Pascal (2009-2011 boxing World Champion), Jabari Arthur (CFL football), Zofia Tujaka (Contemporary dancer with LaLaLa Human Steps) and Martine Dugrenier (2008-2011 Women's Interntional Wrestling World Champion). His work has been credited in relation to Boxer Otis Grant's amazing comeback to #1 ranked Super Middleweight in the world title after a debilitating car accident as well as Anthony Calvillo's revamped nutritional and training regiments in 2008 and 2009 leading up to two consecutive Grey cups for the Montreal Alouettes.
Dev Chatterjee speaks around Canada and the US on various topics and offers workshops to practitioners, trainers and the general public. As a therapist, trainer, nutritional consultant, speaker and teacher, he continually strives to offer a level of care that is excellent and progressive while educating and empowering others in their own commitment to wellness.
Dev's Credentials
B.Sc.PT, E.I.T.
M.A.T. Certified Specialist
Wellness Specialist
Performance Specialist
Licensed Physiotherapist
Licensed Naturopath